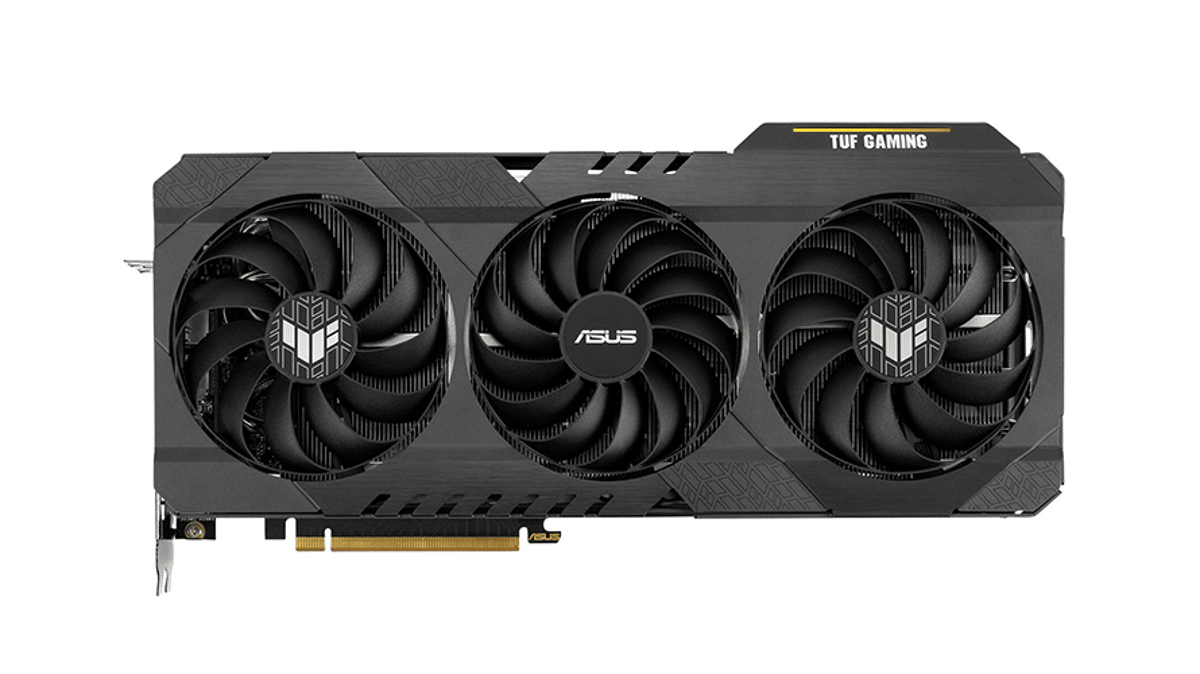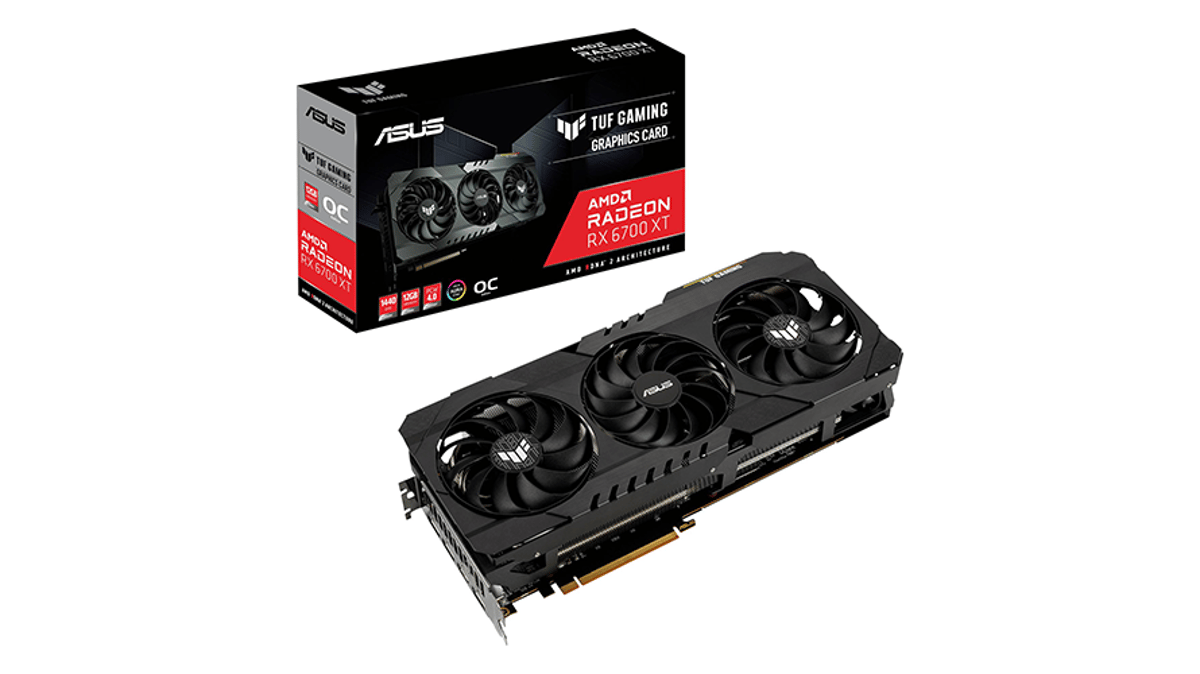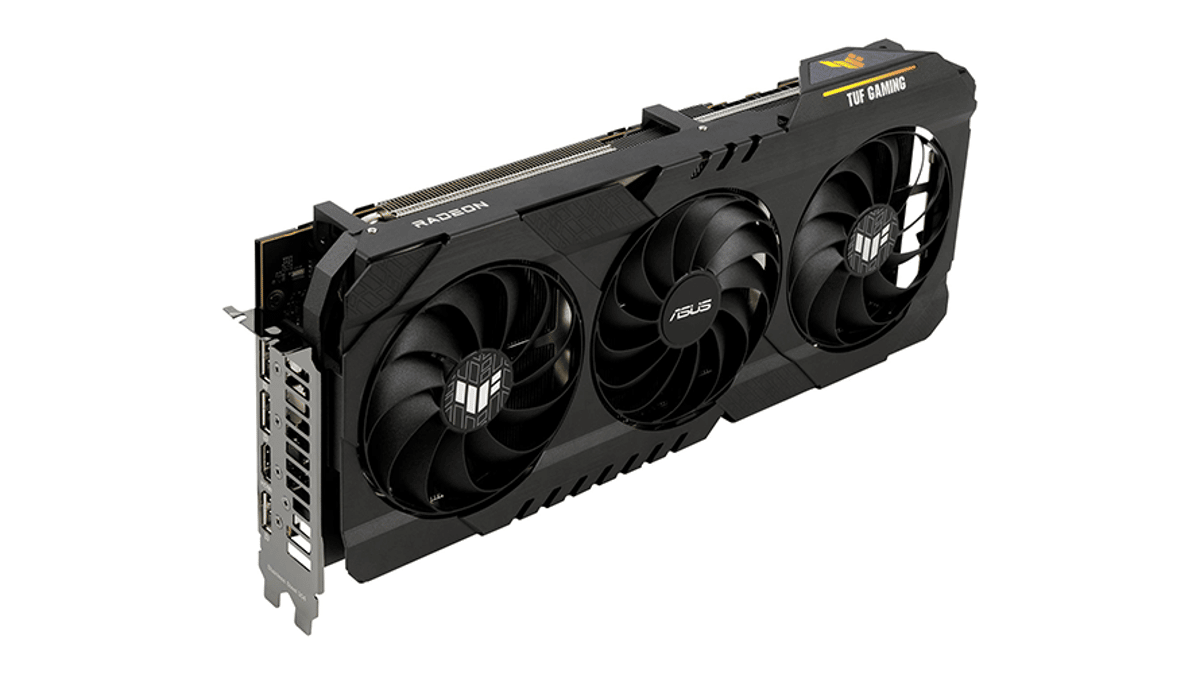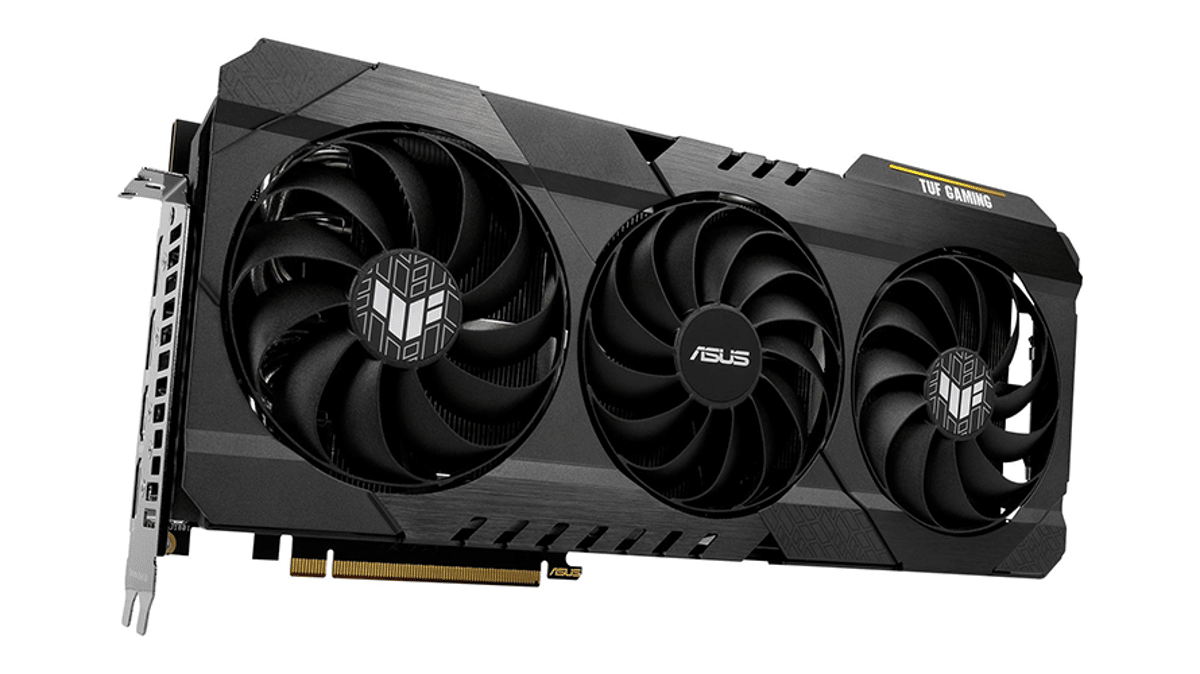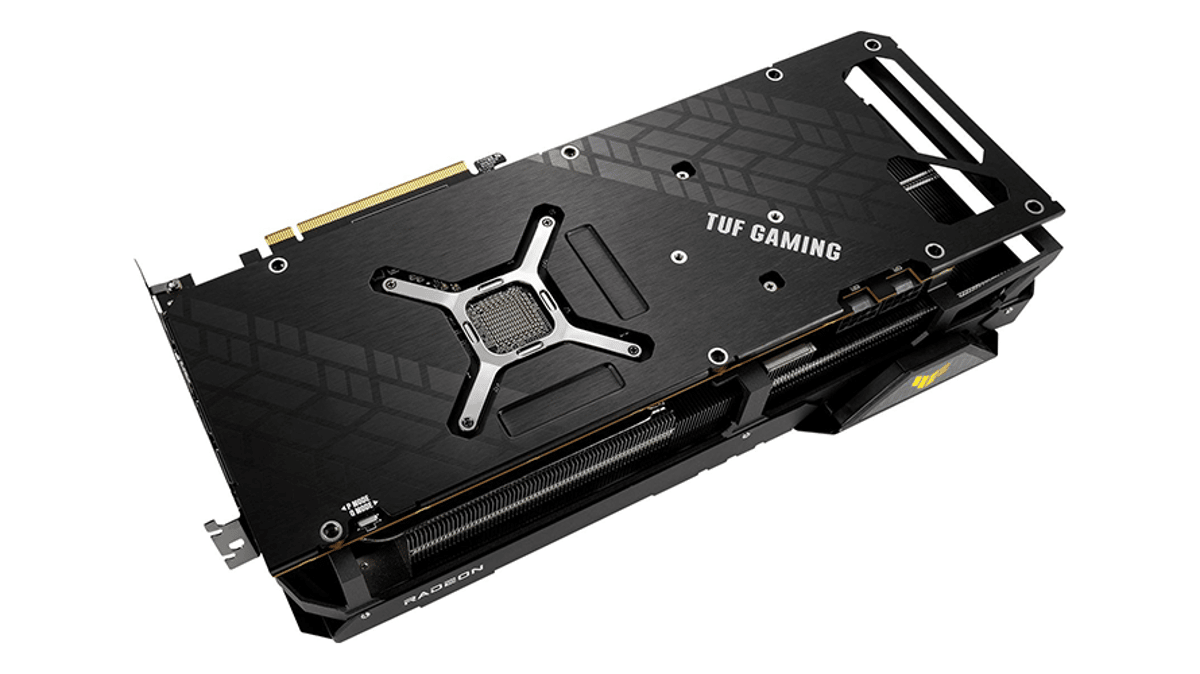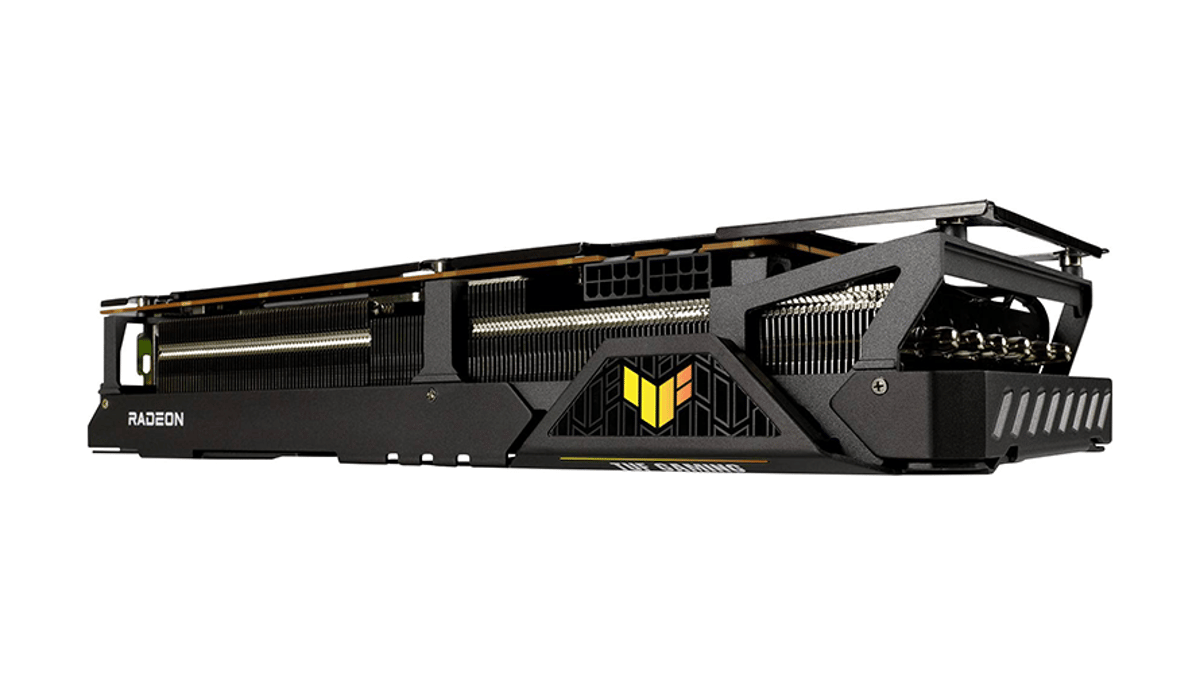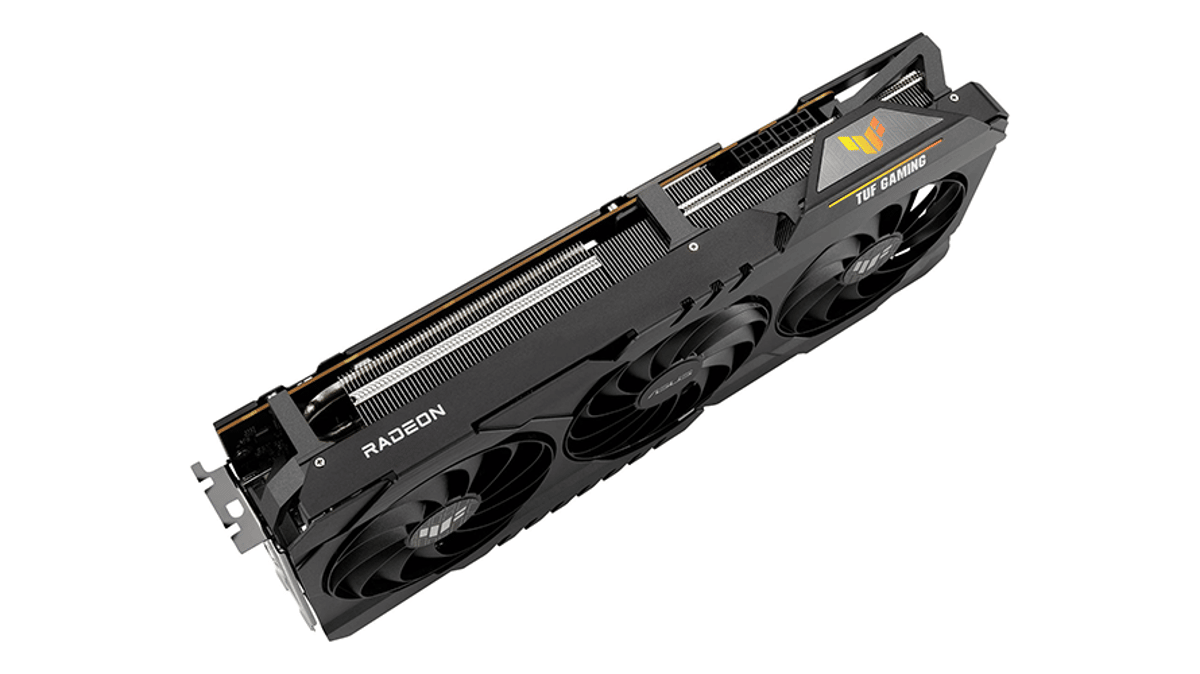 بطاقة معالجة الرسومات للقيمنق اسوس TUF راديون RX 6700 XT OC - بسعة 12 جيجابايت
متوفرة بكمية محدودة. سارع بالطلب
0.0تقييمات
التوصيل
توصيل مجاني
شحن مجاني كامل عند الطلب بمبلغ (300 ريال)
الدفع عند الاستلام
هذا المنتج متاح في الرياض فقط
ASUS TUF Gaming Radeon™ RX 6700 XT OC Edition 12GB
ASUS TUF Gaming Radeon™ RX 6700 XT OC Edition 12GB GDDR6 is a supreme stalwart of cooling and durability.
Axial-tech fan design has been enhanced with more fan blades and a new rotation scheme.
Dual ball fan bearings can last up to twice as long as sleeve bearing designs.
An all-aluminum shroud, reinforced frame, and metal backplate enhance durability.
MaxContact heat spreader features a super flat surface for improved thermal transfer.
A 144-hour validation program puts cards through a series of stringent tests to ensure compatibility with the latest games.
A vented backplate prevents hot air from recirculating through the cooling array.
BUILT TUF
The TUF GAMING Radeon™ RX 6700 XT is a tenacious beast with a tough metal exterior, super-efficient cooling, and components that offer enhanced endurance. An all-metal shroud houses three powerful axial-tech fans with dual ball fan bearings and extra blades. Under the exoskeleton, a thick heatsink keeps thermals under tight control and TUF components, selected for maximum durability and performance, keep the card ahead of the pack. You asked for a mean machine... this one is ready for action.
FANS
BIGGER, BETTER COOLING
This generation, our Axial-tech fan design has matured with an increased blade count on all three fans: 13 on the center fan and 11 on the auxiliary fans. The center fan's extra blades and full-height ring provide boosted static pressure to blast air directly onto the GPU heat spreader. The barrier rings on the side fans have been slimmed down to allow for more lateral intake and to provide better airflow through the massive cooling array.
HEATSINK
MAXCONTACT
To get heat up off the die and into the heatsink array, we've engaged MaxContact technology to polish the surface of the heat spreader and improve smoothness at the microscopic level. The extra flatness allows for better contact with the die for enhanced thermal transfer.
2.9-SLOT DESIGN
The heat spreader draws heat up into heatpipes that carry it through a fin stack that fills most of the card's large, 2.9-slot footprint.
PCB
TUF COMPONENTS
Robust military-grade capacitors were selected for the card's power design. They and other components are soldered to the PCB using our Auto-Extreme automated manufacturing process. Precise joints and the elimination of human error ensures each graphics card meets our rigorous specifications. To ensure flawless performance when it counts, the cards are subjected to a grueling 144-hour validation trial.
DESIGN
METAL COAT
A machined all-aluminum shroud creates a robust outer shell and a no-nonsense industrial design and grayscale colorway fits into any build with ease.
ARMORED UNDERSIDE
The underside of the card reveals further improvements. Most of the rear is swathed in a protective metal backplate that prominently features a wide vent. The vent allows hot air to escape towards chassis exhaust fans instead of being recycled back into the GPU cooler. A GPU bracket provides extra stability to the critical connection between die and heat spreader. Stainless steel is used for the I/O bracket to protect ports and provide a more secure mount. And a conveniently placed Dual Bios switch allows customization of the card's default performance profile without software.
FUNCTIONAL FRONT
The front-side RGB element can be customized to display a range of aesthetic and functional effects, and also synced with other ASUS components to enable uniform lighting. To fulfill the power demands of the Radeon RX 6700 XT, two 8-pin power connectors are present, along with onboard LEDs that light up if PSU PCIe power connectors are not plugged in correctly. Structural pillars of a built-in reinforced metal frame are also visible here and add a literal layer of durability.
SOFTWARE
GPU TWEAK II
The ASUS GPU Tweak II utility takes graphics card tuning to the next level. It allows you to tweak critical parameters including GPU core clocks, memory frequency, and voltage settings, with the option to monitor everything in real-time through a customizable on-screen display. Advanced fan control is also included along with many more features to help you get the most out of your graphics card.
RADEON SOFTWARE
The latest Radeon™ Software Adrenalin 2020 Edition unleashes the full potential of your GPU with day-0 drivers optimized for new game releases and a highly customizable gaming experience.
wtfast
We've partnered with wtfast to help you to play free from lag, latency issues, and lost packets. With a 6-month subscription to the wtfast Gamers Private Network, you'll enjoy lower ping for a smoother, more fluid online gaming experience. Buy an ASUS graphics card - and don't be left waiting!
QuantumCloud
Quantumcloud is a simple and secure service that lets you effortlessly earn extra money by putting your idle GPU to work. Earnings are automatically transferred to your WeChat or PayPal account, and your privacy remains intact because Quantumcloud doesn't collect your personal data. Get started making money today!
Powerhouse Performance for 1440p
AMD Radeon™ RX 6700 XT graphics cards deliver serious 1440p gaming and ultra-high frame rates. Get up to 40 high-performance compute units, groundbreaking AMD Infinity Cache, and up to 12GB of dedicated GDDR6 memory. Experience new levels of gaming performance with AMD Smart Access Memory technology when you pair an AMD Radeon™ RX 6700 XT graphics card with an AMD Ryzen™ 5000 Series desktop processor.
Vivid Visuals
With immersive gaming technologies and support for DirectX® 12 Ultimate, AMD Radeon™ RX 6700 XT graphics cards draw you into the action. Experience 1440p gaming with realistic lighting, shadows, and reflections along with rich detail, thanks to DirectX® Raytracing (DXR), variable rate shading (VRS), and AMD FidelityFX features, optimized for AMD RDNA™ 2 architecture.
Elevated Experiences
Level up to ultimate responsiveness and smooth gaming with low-latency gaming technology from AMD Radeon™ Anti-Lag and AMD Radeon™ Boost.1, 2 Enhance your gaming experience with the latest HDMI™ 2.1 VRR technology, with over 1300 AMD FreeSync™ gaming displays3 to choose from, and support for motherboards with PCIe® 4.0 technology.
استرجاع مجاني
احصل على اسرجاع مجاني على العناصر المؤهلة
توصيل مجاني
توصيل مجاني عند الشراء بـ 300 ريال أو أكثر
واحنا نحبك
 8 من أصل 10 لاعبين يوصّون تطبيق لاعب لأصدقائهم
تقييمك يهمنا
مجتمع اللاعبين قيمنا بأعلى من 4.4 من أصل 5 نجوم في متجر قوقل بلاي والآب ستور